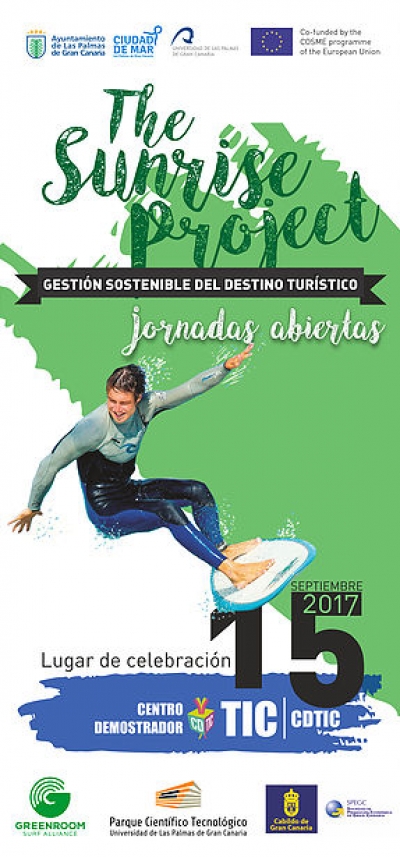 WORKSHOP ON SUSTAINABLE DESTINATION MANAGEMENT // JORNADA SOBRE LA GESTIÓN SOSTENIBLE DEL DESTINO TURÍSTICO, 15/09/2017
Las Palmas de Gran Canaria - Canary Islands
15th - Sep. 2017, 10:00 am
ICT DEMONSTRATION DESTINATION CENTRE- INFECAR
In the context of the SUNRISE Project, which is co-funded by the European Program COSME from the European Commission and it is led by Government of Las Palmas de Gran Canaria and the University of Las Palmas de Gran Canaria, with the support of the Science and Technology Park of the ULPGC and the Corporation for the Economic Development of Gran Canaria, we would like to invite you to the "Workshop about Sustainable Management of Tourism Destination"
This event will take place in September 15th in the ICT Demonstration Centre (Centro Demostrador TIC) at the Canary Islands Exhibition Centre.
SUNRISE project arises from the city of Las Palmas de Gran Canaria, in order to add value and articulate answers about the transformation process that tourist cities are experiencing in their own challenge for sustainable development out of the conventional offering.
In a planned or emerged way, new business initiatives related to the sea and the Blue Economy are arriving from enterprenuers, taking opportunity from the urban culture and the environment where it takes place. And at the same time, new employment and market shares are building incorporating sustainability and business ethics.
Sustainable destination management is increasingly a concern that call up new models not only in archipelagos such as the Canary Islands with high rate of natural protected spaces, but occurs in almost any territory that works under the premise that the way we use our environmet today can not mortgage the enjoyment and development of these natural spaces for generations to come.
11 Octubre 2017